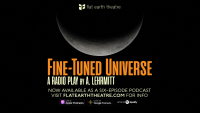 COVID-19 Update: Visit the far side of the moon any time you want! Our new radio play Fine-Tuned Universe is now a six-episode podcast! Check it out on anchor.fm or your favorite podcast platform.
---
Inspired by the 50th anniversary of the historic moon landing on July 20th, 1969, Flat Earth Theatre is commissioning two new plays that explore our relationship with our nearest celestial neighbor, and ponder our next steps towards worlds beyond. Company members A. Lehrmitt (Lovecraft's Tales Outside Time & Space, Lovecraft's Unnamable Tales) and Kevin Mullins (A Southern Victory, Citizens of the Empire) take on the stellar task of navigating the moon and its society, both as a radio play and an onstage production. The project launches on Saturday, July 20th, 2019 with readings from the plays at Comicazi.
Though the Cambridge Science Festival 2020 was canceled due to the COVID-19 pandemic, and with it our live April readings, the Earthlings have established a signal to transmit original moon-themed work straight into your homes.
Fine-Tuned Universe: a radio play
By A. Lehrmitt
Saturdays, April 25th – May 30th, 7pm EDT
Streaming on Facebook Live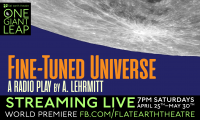 Coming to Facebook Live, our new radio play Fine-Tuned Universe by A. Lehrmitt will stream weekly on Saturday nights at 7pm from April 25th – May 30th, 2020. Each week is a new 20-minute chapter, so keep your comms free of interference!
Stationed on the far side of the moon, a team of SETI scientists works to repair a malfunctioning radio telescope seeking signs of life beyond the solar system. Closer to home, life may be in danger when Earth suddenly goes silent, and the crew of Arroway Station begins to question if they can trust the dubious information fed to them from the opposite side of the moon. Don't believe everything you hear; in this new radio play you must learn to find the signal amongst the static.
Worried that you'll miss a chapter? Catch up on each week's installment scrubbed of moondust on our YouTube channel or check out the brand new podcast on anchor.fm. No one's getting left on the moon on our watch!
Magnificent Desolation
By Kevin Mullins
Live reading canceled due to COVID-19 pandemic
Stay tuned for further transmissions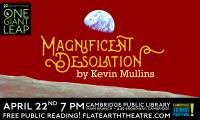 Amanda Croswell is an executive for a leading helium mining company, stationed to the first human city on the moon. Her wife Jane is a high-ranking diplomat with the United Nations. To the outside world they have the perfect life. But when Jane is exposed as a spy for the Chinese government and defects to Beijing, Amanda's perfect world falls apart. Alone, in space, and miles from home, Amanda must piece together her past, finding what is real and what is not, all while a conflict between two superpowers lingers on the horizon.